Mass Schedule
Weekdays (Mon-Fr)
7 am and 12:10 pm
Saturday
Mass: 8 am
Anticipatory Mass: 5 pm
Sunday
7:30 am, 9 am, 11 am, and 4:30 pm

View All Bulletins >
Recent OLP News
April 4-5, 2023: Our Lenten Practice calls us to rejoice in God who is rich in mercy.
This lent make a plan to grow your faith, grow your trust and grow your love.
There is a change in programming for Sunday, January 22nd.
More News >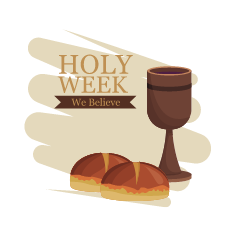 Our Lady of Peace Holy Week Schedule:
Palm Sunday - Sunday, April 2nd. Masses at 5:00pm (Vigil), 7:30am, 9:00am, 11:00am and 4:30pm.
Chrism Mass - Monday, April 3rd at 1:00pm at St. Peter Cathedral
-All the priests of the diocese gather for Mass with Bishop Persico where he will bless the oils that are used in Baptism, Confirmation, Anointing of the Sick and Holy Orders. All are invited.
24 Hour Adoration - Noon, Tuesday, April 4th - Noon, Wednesday, April 5th
- The Church will be open with Eucharistic Adoration during these hours. Make a plan to pray and adore our Eucharistic Lord. All are encouraged to come and spend some time in prayer for the parish, the diocese, community, and the world.
Holy Thursday Mass of the Lord's Supper - Thursday, April 6th at 7:00pm with Adoration at the Altar of Repose in the school cafeteria until Night Prayer at 11:00pm.
Good Friday Celebration of the Lord's Passion - Friday, April 7th at 1:30pm
Good Friday Tenebrae Service - Friday, April 7th at 7:00pm
- A prayer service that uses candles to symbolize the darkness of Jesus' death.
Holy Saturday Blessing of Easter Foods (Baskets) - Saturday, April 8th at Noon
Great Easter Vigil - Saturday, April 8th at 8:30pm
- A celebration of the Resurrection of the Lord that welcomes our newest members, our RCIA and RCIC candidates and catechumen who enter the church today.
Easter Sunday Mass - Sunday, April 9th at 7:30am, 9:00am and 11:00am (Note: there is no 4:30pm Mass on Easter Sunday)
Weekly Readings and Masses
Click here to see the Scripture Readings of the Day
Check out our videos of Sunday Mass

Find us on Social Media
Follow us on Facebook, Instagram, and YouTube to see live streamed Masses and more!